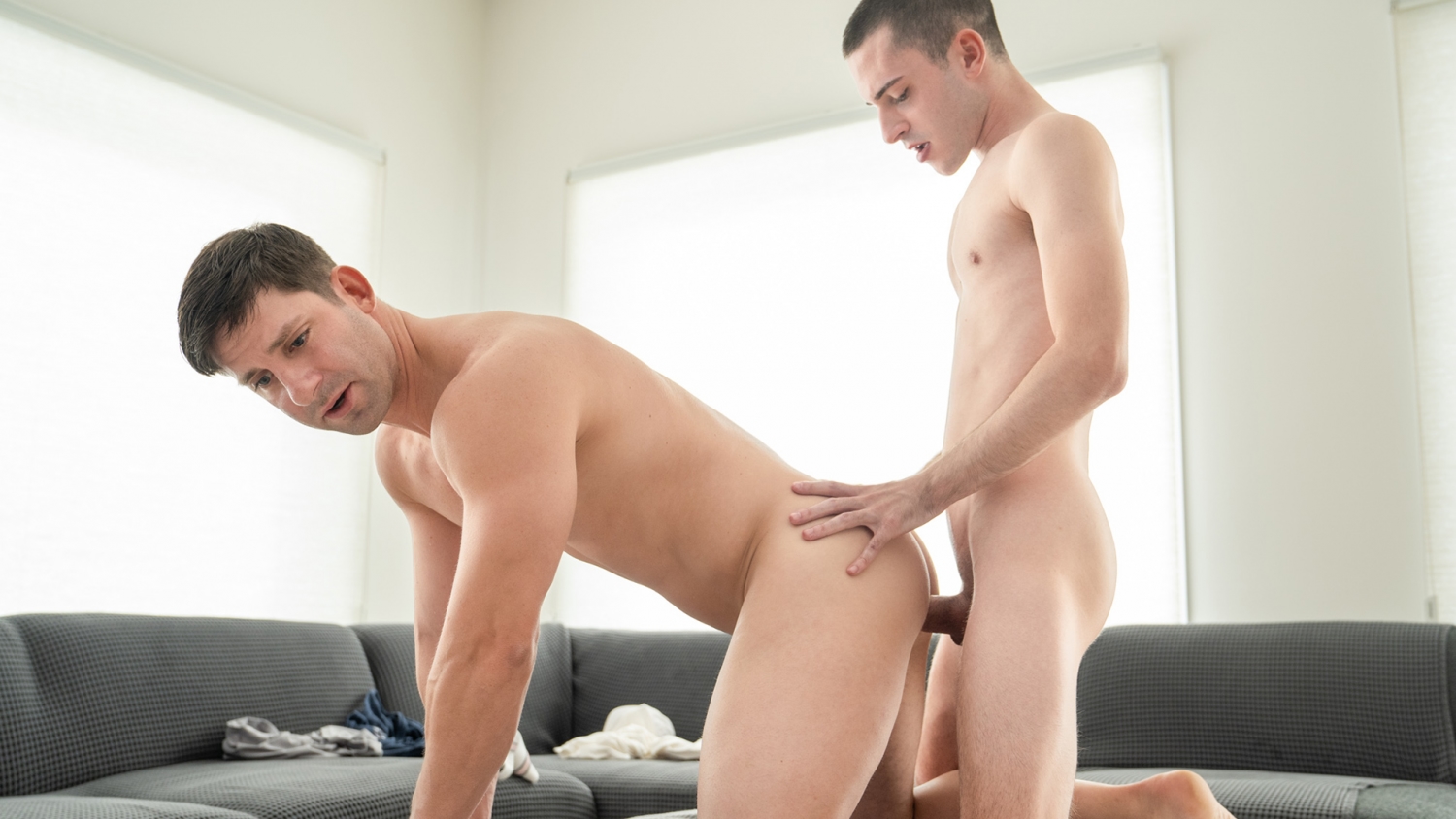 New Recruit
Oliver's a good lad. I've always had a special relationship with him. I'm aware that he comes to me for advice far more often than he goes to his dad, but there's a load of stuff which is just way too awkward to discuss with your old man. And I'm certainly not complaining. It does wonders for the libido! Who wouldn't get turned on by a cute, raging mass of hormones coming to you for relationship advice?
Oliver came to ...
Read more
Oliver came to see me earlier this week. I could tell there was something on his mind, so I sat him down on the couch and we watched a bit of TV until he was ready to talk.
I guess I was a little surprised when he suddenly blurted out that he was going for some sort of hook up with a guy who'd assumed he was a top! Most boys his age would have leapt at the chance to stick their dick in something, anything in fact, but Oliver was obviously quite nervous about it. He said he'd only ever taken dick and didn't know if he'd be any good doing it the other way round. I instantly started to bone up. Oliver packs quite a punch between his legs and on many occasions I've found myself wondering how that dick of his might feel inside me…
It was his turn to be shocked when I told him he could practice on me! The statement just sort of blurted out of my mouth, but if experience has taught me nothing else, it's that flexibility and versatility are important factors in a horny sex life. To be a good top, which I pride myself on being, you gotta know how it feels to be a bottom, so I'm certainly not averse to taking a nice, hard dick from time to time.
We got down to it pretty quick. I pulled him towards me and we kissed like a pair of randy teenagers. And lemme tell you, his dick looked pretty spectacular tenting in those loose gym shorts of his. There's nothing hornier than a long, sexy, make-out session with a twink. They're always so excited. You can literally feel their hearts pumping. It's a great energy to pick up on. Sometimes sex with a guy your own age can feel a bit jaded, a little like painting by numbers. A younger lad will often shake things up a bit, catch you off guard. Besides, there's something really exciting about refining a boy's technique, knowing you're passing him on to the next guy with a little more knowledge and a few, new sexy tricks up his sleeve!
We got naked. He was wearing a jock, which made me think he'd probably come to see me with sex with me on his mind! I pushed the jock down and started to suck his neat, cut cock. It tasted real good - real fresh and clean. It was gonna be an absolute privilege to feel it inside.
Step one in his quick guide to topping had to be rimming. I explained that he needed to learn how to lube up a guy's ass by getting his tongue right in there. Human saliva is way, way better as a lube than anything man made and that was something I really wanted him to know.
I got on all fours on the couch and shoved my ass out so that he could get to work. It turns out he's a natural! He pulled my cheeks apart and got stuck right in, trying all sorts of different moves on me and responding directly to my moans and groans. Quite a mature approach, I thought. The best tops are always sensitive to their bottoms' needs. It's not just about getting inside an ass and banging away till you cum, it's about pleasuring your man. And if he's a little more mature, you gotta savor him like a fine wine!!
Step two in the process of good topping, is using a finger (or two) to really open a guy's ass up. You want it good and ready, particularly if your dick is the size of Oliver's.
I could feel myself twitching big time as he fingered me and probably should have let him carry on for a while, but I was too horny, so we moved onto step three, which was, of course, getting his dick inside me.
I stayed squatting on the couch and he stood behind me, teasing me a little by rubbing the tip of his dick between my cheeks. Frankly, if a first timer does that kinda thing naturally, he ain't got nothing to worry about! I started to relax, forgot about trying to teach him anything and just settled down for the horny ride.
I told him to go slowly, and talked him through the initial stages of pushing himself into me. I didn't need to; within seconds he was easing himself real slowly in and out of me. There was none of the "wham, bam thank you ma'am" that you sometimes get with first timers. He was relaxed and in it for the long haul!
He started pumping a little faster - the strokes were more shallow but they felt just as good. I could sense that he was squatting behind me, his legs real wide apart, thigh muscles engaged. The tip of his dick rubbed against my prostate and I started tingling all over.
Moments later, he pushed himself in real deep and started properly fucking me. The boy is good! The sensation was so pleasurable that I entirely forgot he was a first timer. I just got lost in the moment. I couldn't focus on anything other than my need to have him.
He grabbed my stomach and pulled me into him and I felt him bashing against my inner sphincter. Then he started jerking me off at the same time!
It was his idea for me to get on my back. He pushed my legs in the air, lined his dick up, and stared right into my eyes as he rammed it in. It was hard to know what he was thinking. He looked serious, determined, like he was desperate to get it right. He went real deep in that position and seemed majestic somehow, taking complete control of me, bringing me closer and closer to climax, telling me how great I felt.
As the spunk started squirting from my dick, he picked up the speed. I was cumming big. I could feel it hitting my stomach and oozing down my abs. Between gasps of pleasure, I told him it was his turn to shoot and at that point he started hammering me like a pro. I guess it was inevitable that he was gonna shoot inside me and man could I feel the massive jets of teenage cum flying into my stomach!
It took a while for us both to recover. We lay there, in each other's arms, panting and trying to regulate our breathing. The only phrase which kept dancing about in my head was, "now that's how a top goes from zero to hero!" 100% to be continued…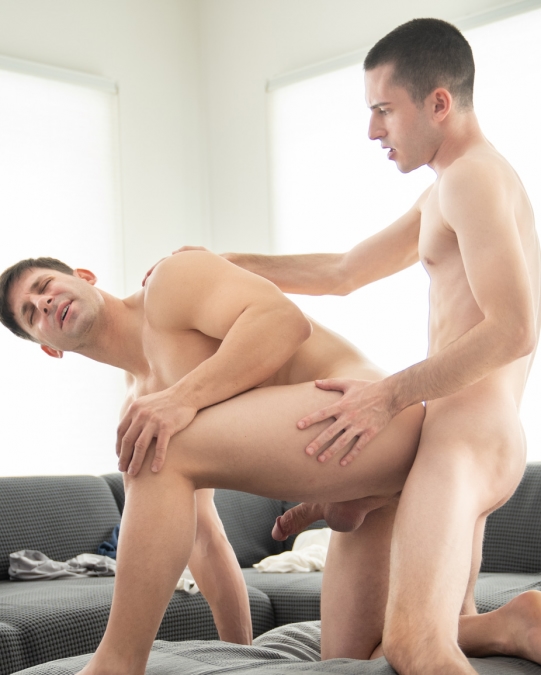 Coach Rick has been training young boys in physical fitness and education for most of his adult life and he's fit for the job. He's a compact guy but a mass of thick muscle with arms and legs like corded tree trunks and big, expressive blue eyes that like nothing more than seeing one of his boys challenge himself and reach his greatest potential. It's all a mentor can really hope for. Recently though, he's been wanting something more… He's had his eye on one student in particular who seems to be trying to get his attention in rather unconventional ways. Not that he minds. Far from it. The extra help the boy gives him in the gym means more time to admire body the boy has purposely been putting on display for him. Coach Rick knows from seeing the boy in the showers that he's got a big dick on him and he wants nothing more than to show him how to use it… in his tight muscle hole.
Oliver is a handsome, pale-skinned boy with doleful eyes. His classmates describe him as a deep thinker. He became quite withdrawn when his parents divorced. He rarely sees his Mom and is desperate to make his Dad proud. He finds older men very attractive and recently found a chatroom where he can talk to older men who like younger guys. Sometimes he texts dirty photographs of himself to the guys he meets. In recent months, Oliver has started to have sex with older men - but always as a bottom. Ironically, for a guy with such a large dick, he worries he's not gonna cut it as a top. What he hasn't yet realized is that there are scores of men out there who are desperate to take his dick!