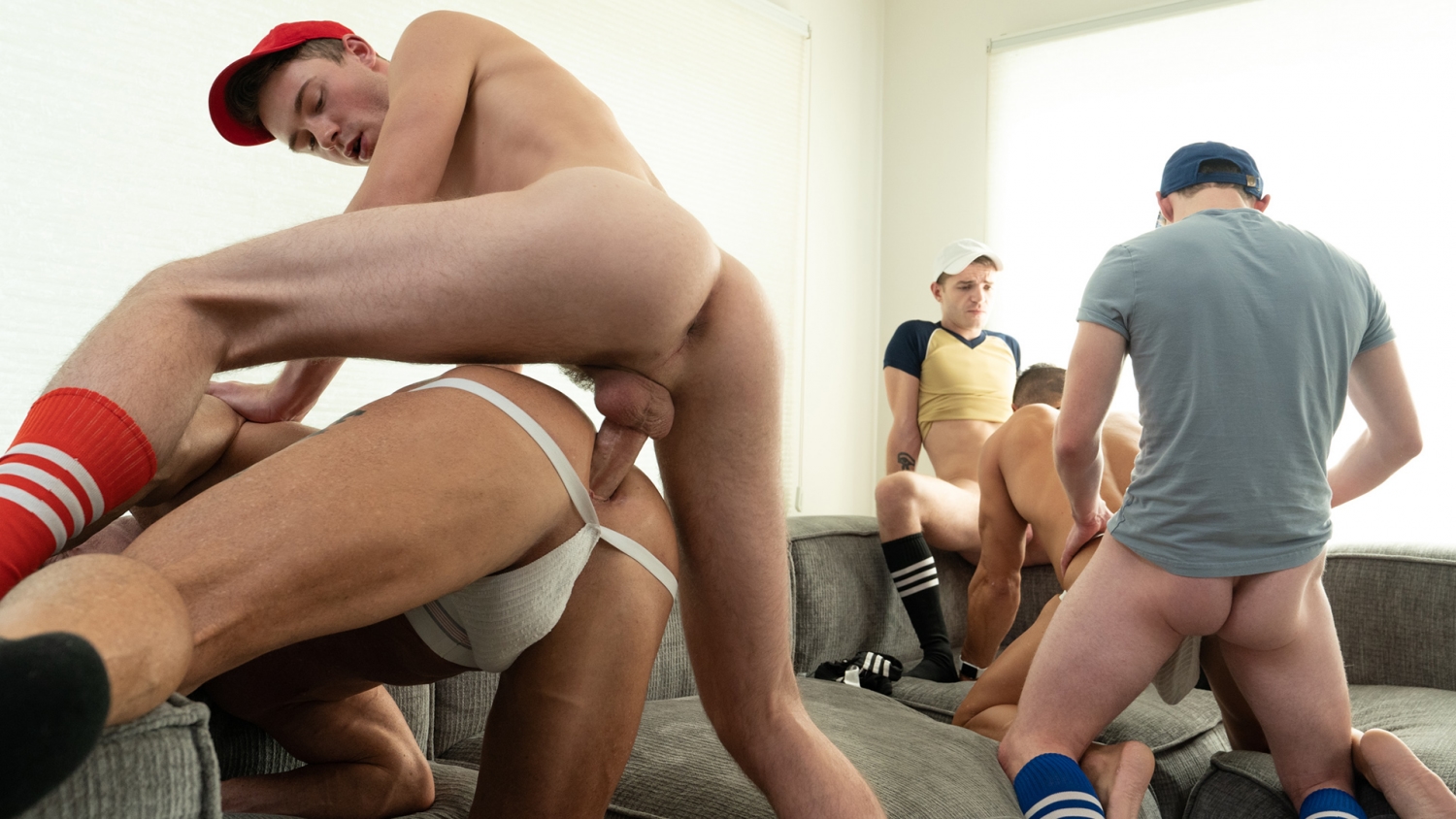 Watching the Game
Watching the game on TV can be a pretty intense experience, especially when the team you support is playing like a bunch of amateurs!
Last Saturday, I ...
Read more
Last Saturday, I had Tom, Eric and Cole over and, a little unusually, we were joined by Principal Figata, which meant we had to be on our best behavior.
The game was predictably disastrous. Useful, I guess, because the boys could see where the players were messing up and hopefully avoid falling into the same traps when they're next on the field.
I'll confess; there's something about watching a really tense game with a group of boys that always makes me a little horny. You're there, surrounded by these guys who are probably fitter than they'll be at any other stage of their life, the testosterone starts pumping, and then the blood starts flowing to all the most exciting places!
There was this really crazy moment when everyone fell completely silent and I could tell we were all thinking the same thing. Principal Figata included. I could sense the boys looking around at each other, checking out the bulges in their shorts, seeing if anyone else was stirring in the same way.
We were obviously all still pretending to watch the game, but it was pretty clear we were far more interested in what was going on in the room. Eric was subtly touching himself and rather brazenly looking at the principal. Tom and Cole kept glancing down at my crotch. God, if I could have bottled the electricity in the room at that moment, I'd have made myself a fortune!
Figata had his eyes glued to the screen, but turned around at one point and noticed Eric looking at him. A couple of moments later, Eric put his hand on the principal's shoulder. It seemed quite brave and forward to me, but Figata just smiled and put his hand on the boy's knee. I'll confess to being a little surprised!
Moments later, Figata was kneeling between Eric's legs and pulling the boy's shorts down so that he could suck his beautiful hard dick. The TV was suddenly a great deal less interesting. There was a real life porn movie going on in my sitting room!
Then I felt Cole's hand rubbing my thigh and, before I knew it, I was between his legs, pulling his shorts down, sucking his beautiful hard dick! The sitting room was now a seething, slurping sex den. Tom sidled over and I had two tasty teenaged tools to service with my greedy mouth. I was in my freakin' element!
I could hear Eric groaning and whimpering at the other end of the couch, plainly in a state of pure ecstasy. Principal Figata was obviously dusting off some of his very best moves! The dirty bastard kept choking!
We swapped places so that I could have a go on Eric. I've always had my eye on that cute little freckled ginger boy and couldn't quite believe that I finally had my lips wrapped around his hard dick.
Figata and I stripped down to our jocks and squatted on the couch. Eric had his tongue inside my hole in seconds; plainly no stranger to sex. Cole was then down on his knees getting Principal Figata good and wet. Then Tom was sitting on the back of the couch, thrusting his giant dick into my mouth. It was mad!
Cole suddenly sprang to his feet and started posting his massive dick into the Principal's tight hole. Eric followed suit and began to pump his cock into me at a speed which almost took my breath away.
I kept trying to imagine how good his cute little bubble butt would have looked from behind, thrusting in and out of me. At that moment, I glanced over at Cole and saw he was banging the Principal pretty hard too. These boys, eh? Endless energy and stamina. We might have to try to harness a bit of that for their next game!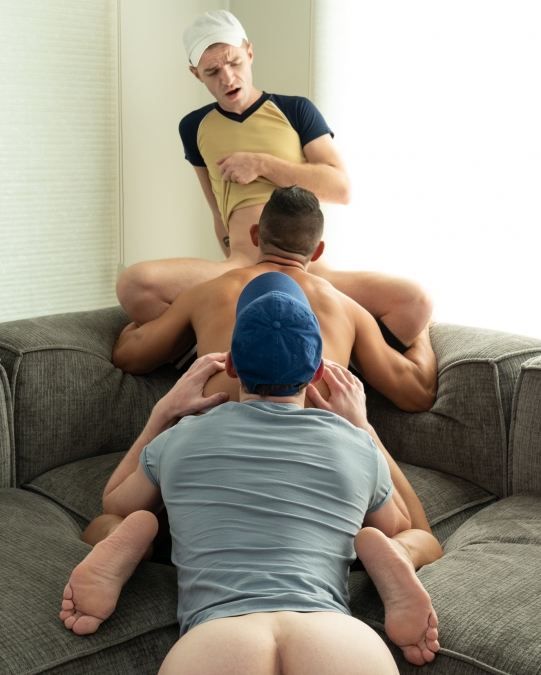 Coach Thirio is beautifully sculpted. He'd seem carved from marble were it not for his sexy caramel tan. Every contour and curve of his body is expertly crafted and shaped to deliver not only peak performance but perfect aesthetics. And that's all before he puts on the whistle and puts his athletes to work. Coach Thirio only takes the most select athletes. He has personal training clients from all over the world who come to him to improve their performance, getting bigger, stronger, and faster. Because of that, he expects his athletes to really push themselves. His time is valuable, and the one thing he can't stand for is wasted potential.
Cole is a little bigger than most of his peers. He's tall, muscular, and blessed with a big, meaty cock! Not only is he a solid athlete, but he's also completely gorgeous. Both boys and girls have been trying to sleep with him his whole life, and he has no complaints about it.

The more he spends time with the boys at his camp, the more he feels himself hungry for something more. As a counselor, he's used to being in charge and getting his cock sucked by anyone he wants. But being around young, twinky guys all day, he can't help watching them; imagining their legs thrusting their bulging meat into his ass, filling him up, and dominating his hole. He jerks off thinking about it all the time, ready for a little guy to take control and fuck him good!

Coach Figata knew the first time he put on a jockstrap that they would always be part of his life—and his sex life. That's one of the main reasons he went into athletics for a career! And his years of experience have also shown him how hot it can be to not only be the muscular, masculine daddy top, but also the hot muscle butt, masculine daddy bottom young twink studs want to explore, lick, and fuck. When he finds twinks ready to go balls deep in a tight hole, he's ready to show these boys his hot athletic muscle ass and see the boys naturally respond.