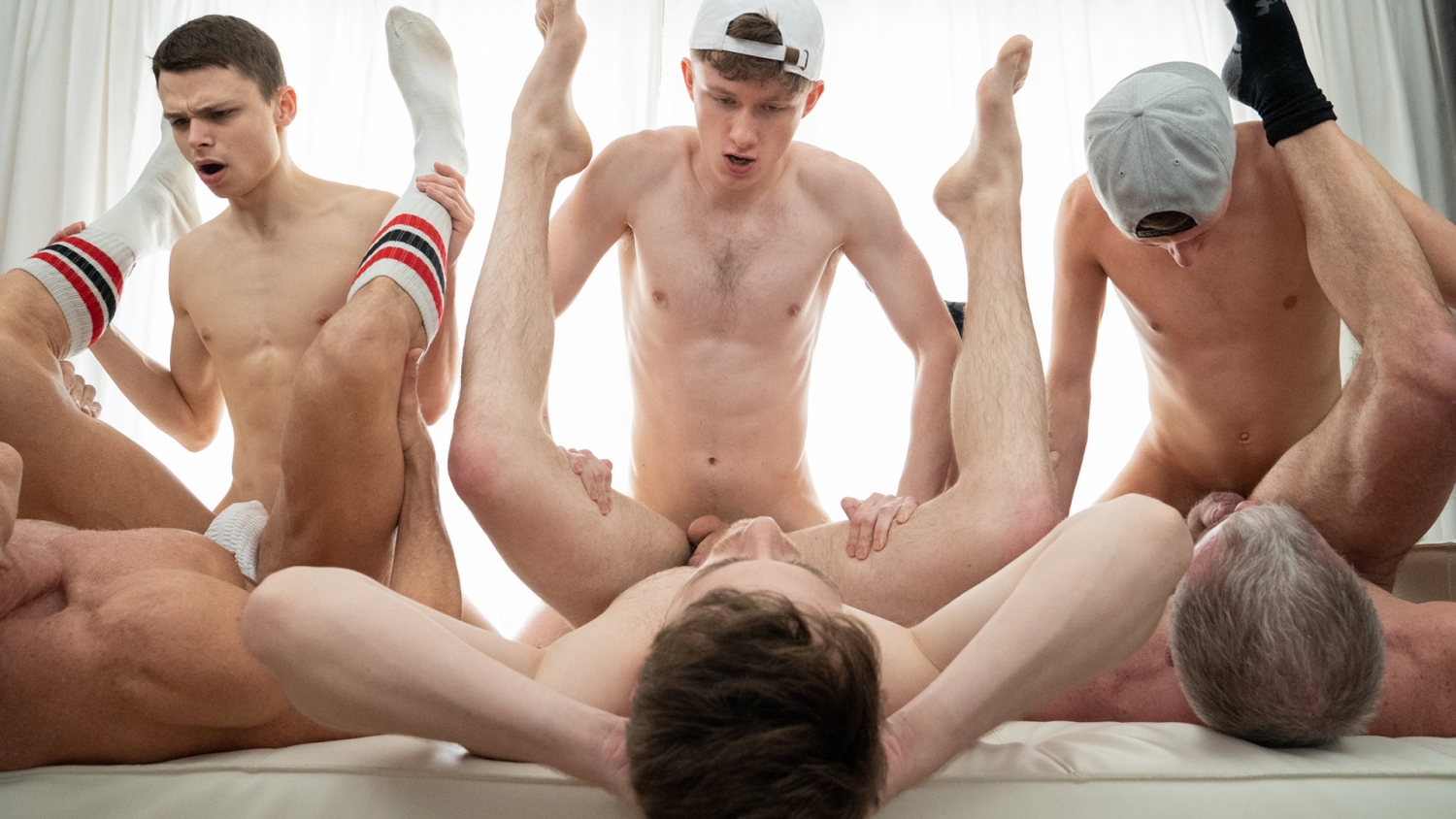 Felix's All Play
Felix found that he wasn't alone in enjoying the tight, meaty hole of a dady bottom! After speaking with his friend, Austin, he was surprised to find that he and his teammate, Lukas Stone, had been spending a lot more time with their instructor, Coach Savage. The horny boys formulate a plan to bring their worlds together and have a little fun switching up positions.
When Felix reached ...
Read more
When Felix reached out to his director to see if he would enjoy some group action, it made the older man practically cum in his shorts at the thought! He agreed to meet up with Felix's friends and even invited Cole Blue, one of his special camp counselors. He knew Cole would enjoy spending some time with Felix outside of the campgrounds, especially if it meant he could take the bare cock of a horny twink jock!
As the six men entered in, they couldn't help but immediately size each other up...
The handsome dadies stood out from the group, their salt and pepper hair indicating their experience and maturity. Their bodies were toned and fit from years of discipline, tried and tested, ready for action. The younger guys had a different appeal. Their smooth, lean bodies were strong and capable, but still very much full of youth and energy. They were like little puppies, eager to play and work out their curiosity.
There was a tension that filled the air, each man waiting for the other to make the first move, unsure of what to do but desperate to do it...
Director Steele took the lead, reaching for Austin to plant a kiss on his lips. The tall man had to lean down to make contact, making his great height seem even greater next to the tiny boy. The rest took the hint and began to embrace each other; Lukas with Cole, Felix with Coach Savage.
It wasn't long before they were caught up in an orgy of kissing and groping, caressing each other's muscles and cocks, moving from one to the other. Cole, Director Steele, and Coach Savage all felt their hearts race as they watched their younger partners get braver and bolder.
The men prepared themselves mentally to be fucked by them, excited to see their twink tops take the lead. Lying on their backs, side by side, the men looked at each other and nodded in affirmation, knowing why they were there and indicating their mutual arousal.
As they each took a boy's cock into their mouths, they looked up to see their hard, smooth bodies towering over them. Especially for a man like Director Steele, it was exciting to be overpowered and dominated by someone younger and smaller than him.
As if in sync, the tops lifted up the legs of their beefy bottoms, watching their cheeks spread apart as they opened up to be filled. One by one, each boy pressed his slick member up to their bottom's sphincter, feeling it pulse with excitement. The older men looked to their tops, nodding in approval to take their place inside them. And with that, the boys slid their bare cocks deep inside, giving their dady bottoms every inch of their manhood...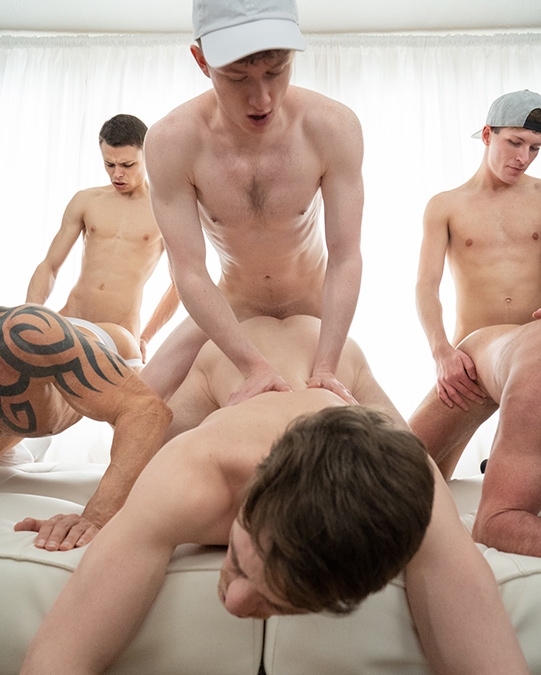 Austin is a sexy, little guy with almost no hair on his body, except for what grows on his head! And given how much he likes bottoming, he didn't mind the presumption that he would bottom whenever he had sex. He was, in fact, very happy taking big cocks up the ass! But despite stereotypes about his size and tight-bodied twink physique, one day while watching porn, he found himself unexpectedly getting turned on by the thought of topping.

Watching sexy daddies fuck smooth little twinks, Austin got horny for the big, muscle butts of the daddies. Even as they were fucking the whimpering little guys, he didn't just admire their strength and size, he imagined what it would be like to feel his cock slide into those beefy asses. And suddenly he wanted nothing more than to give it a try! Austin has had a lot of fun pumping young loads into sexy men who love taking a good pounding from this little twink top!

Coach Savage believes in pushing people to their maximum potential. He loves to see a young guy work toward a goal and achieve it, especially when he doesn't think he can. He's a bit of a daddy by nature. A true mentor; caring and nurturing, while sporting a thick daddy dick and a hot muscular body. His salt and pepper hair make many boys stand at attention, eager to learn from him about more than just sports. Watching young athletes grow and develop, it's hard for him to not pop wood at the sight of a stud in a jockstrap, filling it out more and more, day by day.

At home, he loves coming up with all sorts of plays to test his boys' stamina and strength, getting him horned up like nothing else... And when his team needs to blow off a little steam, he's happy to give them exactly what they need, especially if it's his round, muscular coach ass!

Cole is a little bigger than most of his peers. He's tall, muscular, and blessed with a big, meaty cock! Not only is he a solid athlete, but he's also completely gorgeous. Both boys and girls have been trying to sleep with him his whole life, and he has no complaints about it.

The more he spends time with the boys at his camp, the more he feels himself hungry for something more. As a counselor, he's used to being in charge and getting his cock sucked by anyone he wants. But being around young, twinky guys all day, he can't help watching them; imagining their legs thrusting their bulging meat into his ass, filling him up, and dominating his hole. He jerks off thinking about it all the time, ready for a little guy to take control and fuck him good!

Director Steele is an important man with a lot on his mind. He runs a busy athletic camp that constantly needs his attention. Not only do the young men themselves need assistance, but the hot, young crew he's hired also need his guidance and attention! The only thing he rarely has time for is getting his own needs met.

As a handsome, tall, muscular silver daddy, he's used to having young guys practically beg to have their asses fucked hard by his big daddy dick. But sometimes, he just needs a smooth, lean top to help him relax by pounding him bareback hard and breeding him deep!