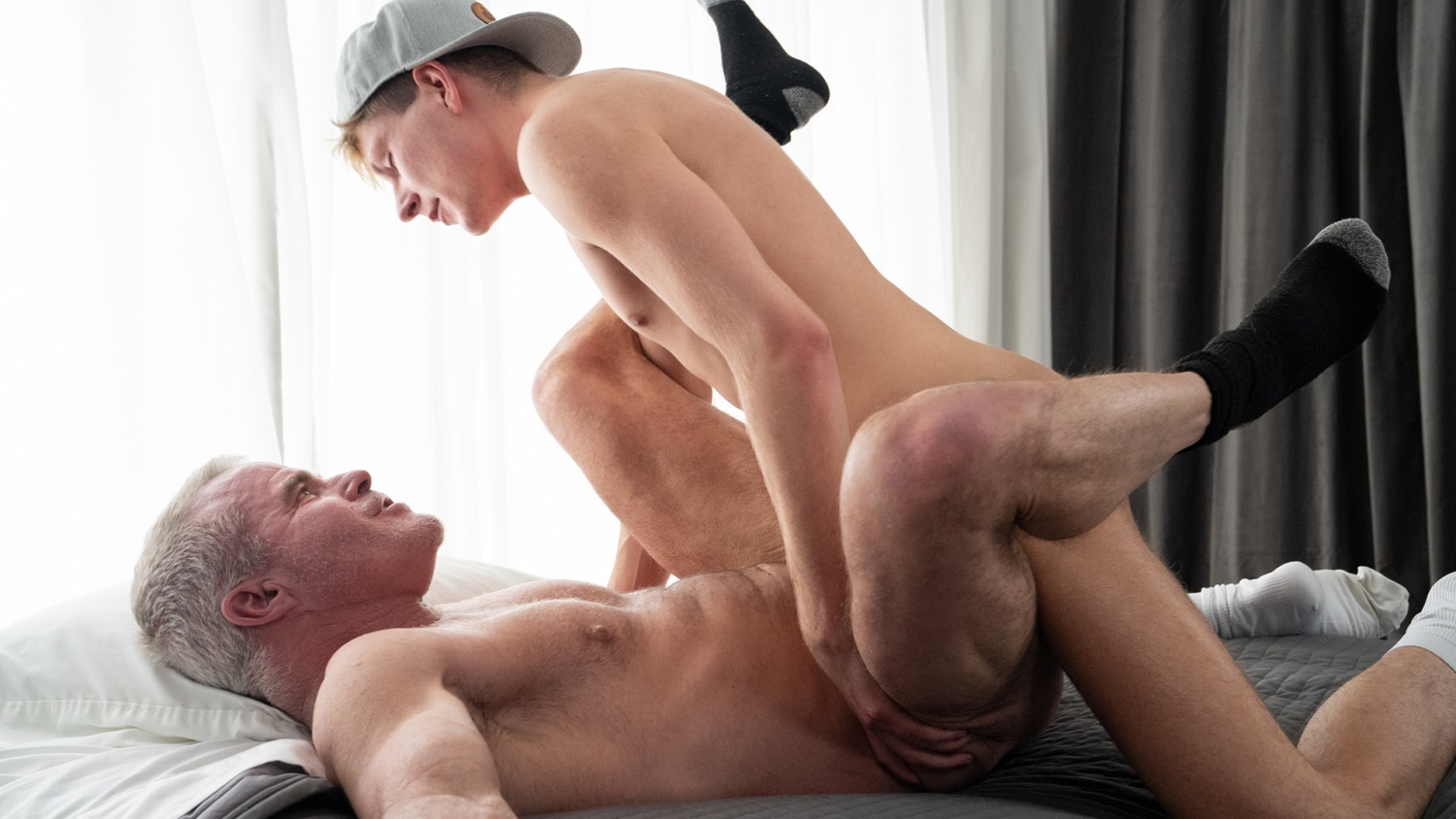 New Recruit
Coach Savage sees a lot of promise in Lukas. The young stud is handsome, confident, athletic, and has a great cock! Savage has seen he can play well on a team, but he wants to see how he does one on one...
The older man ...
Read more
The older man calls the boy in for a little friendly meeting, hoping to see first hand just how he handles himself on his own. Lukas is happy to get the silver daddy alone! After all, he's always had a thing for a man with a whistle! And seeing him in his shorts and polo, Lukas can't help but be horned up for some hot coach action.
The two take off their clothes, kissing each other's muscular bodies. Savage loves the boy's soft, smooth skin, kissing down his abs one muscle at a time.
Lukas licks the older man's nipples, watching him tremble and quake in response. He knows the hot coach is wired up and horny for his meat, making him all the more excited
Taking off their underwear, Lukas first shows his respect by running his tongue all over his coach's thick cock. He can taste his experience and expertise as he swallows each inch of the older man. He can see the older man's smirk as he looks up, eager to make him proud. Savage presses his hand to the back of Lukas' neck, encouraging him to keep going.
Lukas turns his coach around, getting him on all fours. Getting a good look at the muscle daddy's meaty ass, he can see the fine hairs that surround his tight hole. He dives in with his tongue, lapping at his perfect pucker as he strokes the older man's wet cock! Savage holds his head, wanting to take him deeper and harder. Fortunately, Lukas is only getting warmed up and is eager to step up to bat...
Coach Savage holds himself in place, bracing himself on the bed as Lukas presses his hard cock between his cheeks. The older man breaths deep and exhales slowly as Lukas slides his way inside him. The hot, hard penetration sends a rush throughout the coach's body, happy to feel the young man inside him!
Lukas feels a rush of his own come over him. He can't help but feel like a champion, proving himself to the hot coach. He wants to give it his all as he seizes the moment. Gripping onto the coach's waist, he pounds into him harder and faster! He works up a sweat as the older man grunts and moans. Coach Savage is willing to endure the hard, deep fucking, knowing that he's seeing the young man rise to his full potential.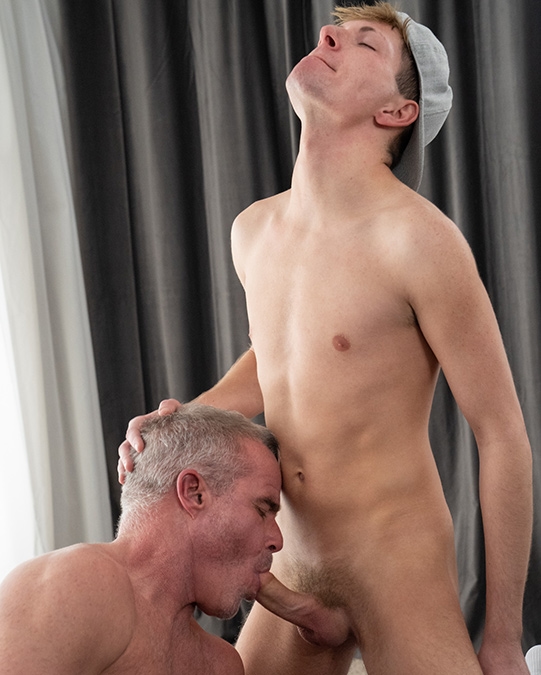 Coach Savage believes in pushing people to their maximum potential. He loves to see a young guy work toward a goal and achieve it, especially when he doesn't think he can. He's a bit of a daddy by nature. A true mentor; caring and nurturing, while sporting a thick daddy dick and a hot muscular body. His salt and pepper hair make many boys stand at attention, eager to learn from him about more than just sports. Watching young athletes grow and develop, it's hard for him to not pop wood at the sight of a stud in a jockstrap, filling it out more and more, day by day.

At home, he loves coming up with all sorts of plays to test his boys' stamina and strength, getting him horned up like nothing else... And when his team needs to blow off a little steam, he's happy to give them exactly what they need, especially if it's his round, muscular coach ass!

Lukas knows he's hot stuff! He's been the big man on campus his whole life. He loves showing off, fooling around with his guy friends, and showing off his big dick whenever he can. He may not be the most muscular or biggest, but he's got a cocky attitude and a heavy set of balls that make him feel like a king! And it's not like people don't respond in turn... He loves getting his dick sucked and plowing a big, meaty, durable ass with his big tool.

The way he likes to fuck, the bigger the bottom the better! Lately he's been eyeing other members of his team, including his beefy, muscular coach. He loves the idea of making a big daddy beg for his load, sliding his cock inside, and fucking him like a champ. There's nothing he can't achieve if he puts his mind to it, and next on the agenda: a round, hairy man ass!