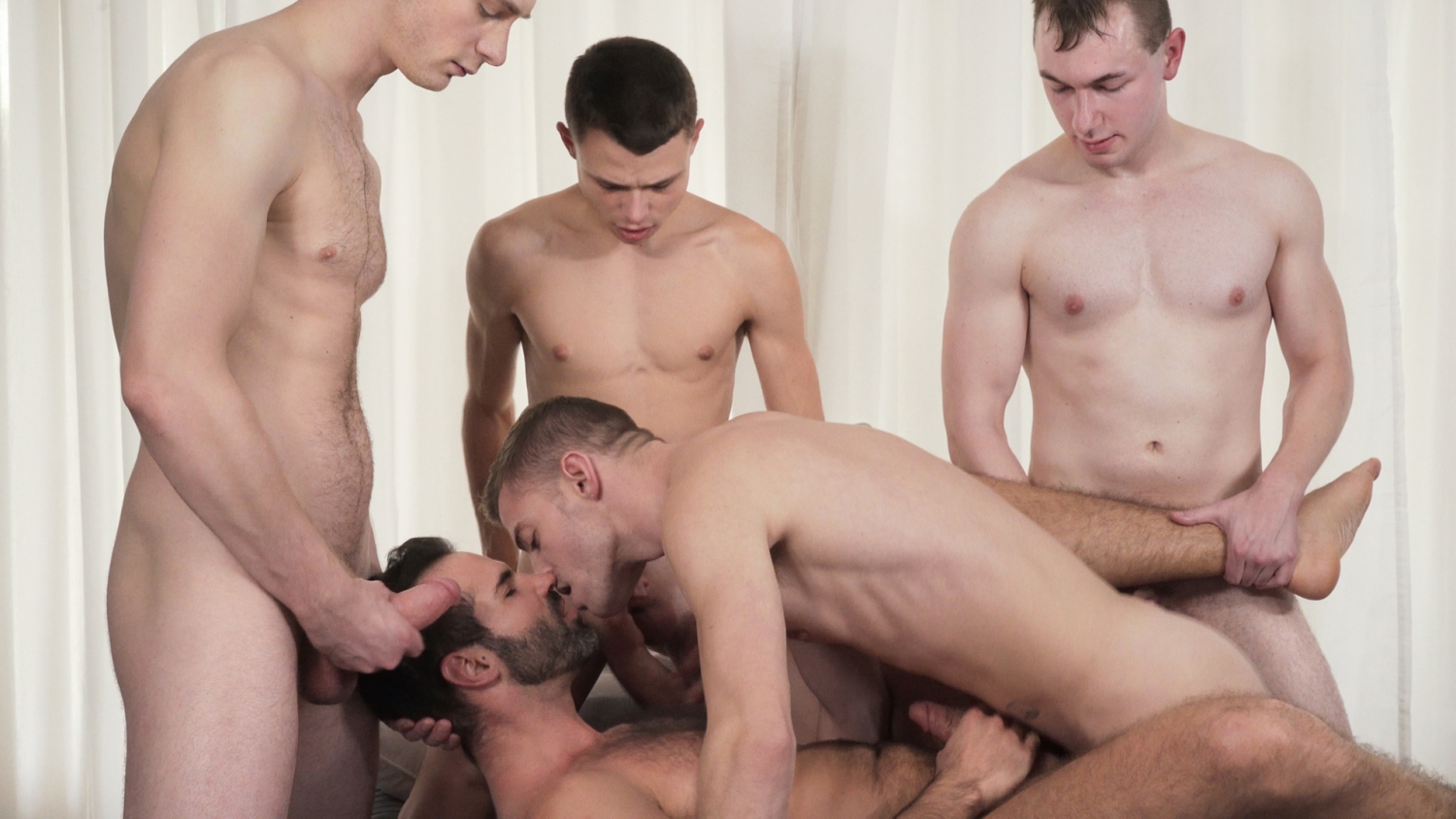 Twink Tag Team
Agent Robles has his hands full! The young men he manages are all talented, fit, and beyond eager to show their skills. Normally he likes to meet each boy one-on-one to develop a rapport and focus his attention. But today, his interests are more of a personal nature...
Bringing in four ...
Read more
Bringing in four of his sexy recruits, he puts himself in the middle of an all-twink fuck fest, splaying out on his bed to let his horny, passionate boys go wild on his body! The handsome, scruffy, older man can't get enough of their beautiful, smooth, lean bodies; feeling their soft skin rub against his, and bringing his cock to a full throb!
The young men have no problem sharing. Having played together on a team, practicing together, exercising together, and exploring their top urges side by side, they're more than happy to pass Robles' hard cock and round, furry ass back and forth to each other! They take turns sucking his cock, eating his daddy hole, and getting him ready for a hot, energetic gangbang...Lying on his back with a cock filling his mouth, Robles opens his hole for each boy, feeling their bare meat sliding into his hungry hole. He's amazed just how intensely his young champs fuck him, showing off their youth and vitality with each deep thrust into his body. Robles may be a bit older than them, but he's more than capable of taking each of their hard poundings!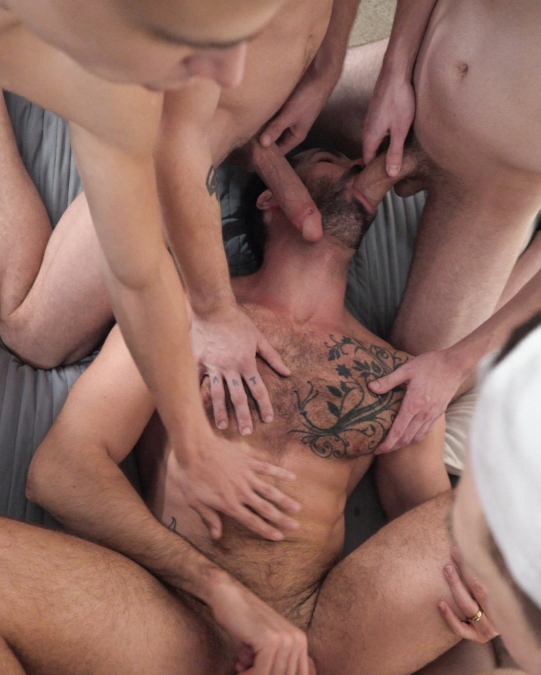 Agent Robles has his eyes on handsome, young, fit athletes all the time. He watches how they move, how they play, and how they've taken care of their bodies. It's hard not fantasize about how they look naked, seeing these young bucks at their physical peak. He's often thought about what it would be like to feel their strong legs thrusting into his ass, filling up his hole with their hot jock cocks, and pumping their protein-rich seed inside.

Being older and a bit bigger than some of the guys he encounters, he knows that most are looking at him as a top, and he certainly catches them looking all the time. And while he certainly enjoys taking the lead, nothing gets him more excited than a young stud taking charge and fucking him nice and hard!
Austin is a sexy, little guy with almost no hair on his body, except for what grows on his head! And given how much he likes bottoming, he didn't mind the presumption that he would bottom whenever he had sex. He was, in fact, very happy taking big cocks up the ass! But despite stereotypes about his size and tight-bodied twink physique, one day while watching porn, he found himself unexpectedly getting turned on by the thought of topping.

Watching sexy daddies fuck smooth little twinks, Austin got horny for the big, muscle butts of the daddies. Even as they were fucking the whimpering little guys, he didn't just admire their strength and size, he imagined what it would be like to feel his cock slide into those beefy asses. And suddenly he wanted nothing more than to give it a try! Austin has had a lot of fun pumping young loads into sexy men who love taking a good pounding from this little twink top!

Cole is a little bigger than most of his peers. He's tall, muscular, and blessed with a big, meaty cock! Not only is he a solid athlete, but he's also completely gorgeous. Both boys and girls have been trying to sleep with him his whole life, and he has no complaints about it.

The more he spends time with the boys at his camp, the more he feels himself hungry for something more. As a counselor, he's used to being in charge and getting his cock sucked by anyone he wants. But being around young, twinky guys all day, he can't help watching them; imagining their legs thrusting their bulging meat into his ass, filling him up, and dominating his hole. He jerks off thinking about it all the time, ready for a little guy to take control and fuck him good!

Tom is a twink, no doubt, and the handsome young man is a cocksure stud who's never had a hard time getting what he wants. He works hard, plays smart, and knows how to use what he has. As a solid athlete, he knows the importance of keeping himself in shape and strong, but he knows nothing is more compelling than being focused and confident!

Even though he's not one of the biggest guys on the field, he knows how to take control and make even the older, stronger, broader guys submit to his seductions. He loves nothing more than fucking a handsome, older guy and he has no trouble finding a hot, hungry hole to breed!